Main :
Contact :
Tel. France
Tel. France
+33 607 833717 mobile
Links :
Family Holidays in France
This region of France is a wonderful location for planning your next family holiday. Our house is in a beautiful setting but the local area even tempts you away with wide sandy beaches and the dune of Pyla. The chemins (roads) through the forests can be explored by car or bike. Water sports are available on the large lake of Soustons and trips to the Pyrenees are little more than an hour by road.
From about 10th July for 6 weeks, most visiting guests are families with children.

Life takes place outside, at our large property, on the beach, at the lake, but also "on tour" in the Basque country, the Pyrenees, on the dune of Pyla (120 m high) or wherever else you wish. There is a lot to discover and even the vineyards at Bordeaux are only 150 km away if you fancy wine tasting.

       
Breakfast, lunch and dinner are taken mostly in the garden or on the covered terrace of our annex "Dépendance". Apart from breakfast which is always prepared by the Patron, dinner is commonly planned, prepared and eaten together. We use the grill, our giant "Plancha" (pan) or the fully equipped kitchen in the Villa.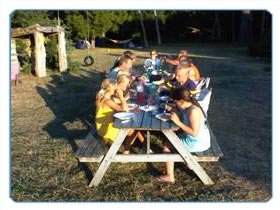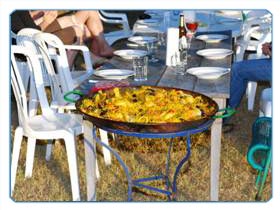 Several international friendships have emerged here and some families re-book every year.
You are free to make your own plans but mostly we organise our days together, like tours to the Pyrenees, fishing trips or just visits to the beach.
Details - family holidays in France
Just contact me directly for more :
Peter Saborowsky
A tranquil holiday for the whole family or an exhilarating sporting vacation for top athletes
it's your choice!